!-GénérEpar Avanquest Technology v:8.0. Pour plus d'information, visitez : http://www.avanquest.com -->
Food Gems French Tarts and Quiches
Retail Packaging
French Tarts and 24 oz quiches can be displayed in your retail case in attractive domes with black bottoms and clear tops. A wrap around tamper evident label builds customer confidence in a safe product. All French Tarts and Quiches must be displayed in a refrigerated case.
8 Inch Quiche in Dome
French Tarts in Dome
6 inch (11 oz) Quiches are shrink wrapped in plastic with a wrap around label that still gives the customer a subtantial view of the procduct they are purchasing.
Assorted 6 inch quiches in plastic shrink wrap.
Go to ...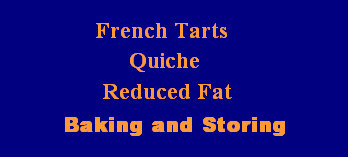 Assorted Reduced Fat Quiches in both domes and plastic shrink wrap.